Skip to Content
Experience, Materials and Knowledge
Planning a construction project is one thing, but executing your project can be overwhelming. At Haskell Lemon Construction Co., we make the process easy for you. Our comprehensive contractor services cover everything from pre-construction planning to cold milling. As construction experts, we have the experience, materials and knowledge to execute your road, highway, bridge or other construction projects to perfection.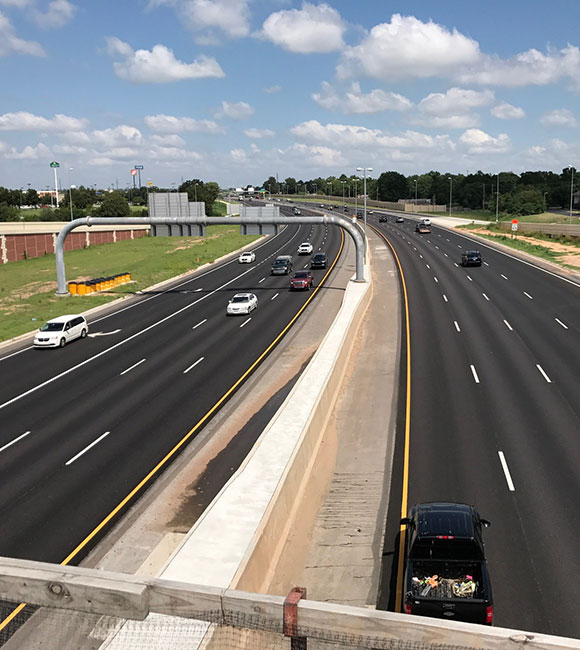 Haskell Lemon Construction Co. Services
As Oklahoma's leading asphalt paving company, we pride ourselves on our history and look forward to the future! Our paving managers and superintendents offer over 70 years of experience in the asphalt industry.
Whether your paving needs are for residential streets, commercial developments or interstate highways, Haskell Lemon Construction Co. has the knowledge, materials and experience to see your job through timely completion. With our owned, five hot mix asphalt plants, we can supply you with asphalt when and where you need it.
Using our extensive fleet of company-owned paving equipment, the expertise of our maintenance team, the dependability of our dump trucks and drivers, and the watchful eye of our Traffic Control department, our crews work day and night to ensure their work is done safely, correctly, and efficiently.
With five state-of-the-art asphalt plants in Oklahoma, Haskell Lemon Construction Co. is the largest asphalt manufacturer in Oklahoma City. Each plant is strategically located to provide convenient, cost-effective access to the highest quality asphalt.
Highway Construction
Our construction workers are experts in all aspects of highway construction. From construction scheduling to traffic signal installation, we offer it all. To ensure your project is completed smoothly, we set deadlines for each aspect of the project. With our team's work ethic, we can provide you with the service and quality you're looking for.
As grading and leveling specialists, we understand how important precise grading is to your landscape project. From roads to railways, we can provide you with the right level base for your project. Our construction professionals operate our top-of-the-line machinery with ease and with workplace safety in mind.
Cold milling, also known as rotomilling, allows for the precise depth removal of worn, rutted, or deteriorated asphalt before resurfacing. Cold milling can also help restore the originally specified grade and cross slope of the roadway and can correct many problems before applying a new roadway surface. Haskell Lemon Construction Co. has the expertise to meet the challenges of your project, whether they are related to time, costs, or specifications.
Utilizing state-of-the-art testing equipment, Haskell Lemon Construction Co. continually performs Quality testing on our asphalt mixtures. You can be assured that the material produced for your project will meet your required specifications, whether a commercial, city, county or state asphalt mixture is required.
Contact Us Today for Your Free Estimate