Skip to Content
HLCC History Synopsis
By: Lynette Lemon Wert and Larry H. Lemon
After World War Two ended, Haskell Lemon worked as a machinery salesman for Hoover Equipment and Southwest Machinery, the Caterpillar dealers in Oklahoma City.  He called on anyone who could remotely use a bulldozer—state agencies, farmers, oil companies, road contractors, and county commissioners in all 77 counties.  He developed a network of contacts and took note of new businesses and how Oklahoma was booming.  He convinced himself the future lay in natural resources. So he bought a Lorain shovel and set out to mine agricultural lime  and opened a business named Hi-Test Lime Company.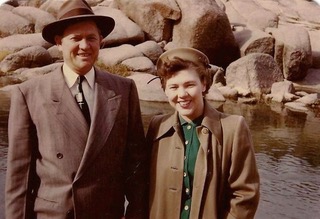 Hi-Test Lime Company operated from 1947 to 1948.   Haskell hired his first employee, Curtis Tweedy, who worked for his company for 25 years,  to operate the Lorain shovel,  rented a bulldozer, a tiny crusher, and one dump truck with a sand spreader in the bed, and set up for business in a Lime pit near Ravia, Okla.    Haskell  made sales calls on farmers and ranchers, to convince them they needed Lime on their fields to increase their crops, and supervised the one other employee.  Irene made flyers promoting "You need more lime in your diet!"  When he made a sale,  he and Curtis Tweedy would put on their work clothes, produce the lime, and spread it on the fields.  Congress subsidized farmers to spread agricultural lime on their soil and improve the crop yields.  This business lasted until Truman was elected in 1948.  Congress killed the ag-lime subsidy and Hi -Test Lime Company was out of business overnight.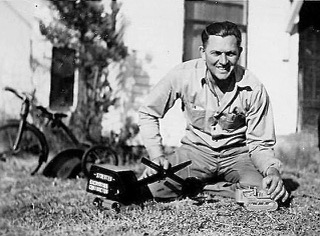 With no business, but the (HUGE) $600 a month payments on the Lorain shovel continued!  Haskell found a road contractor who was dipping gravel from a pit south of Ada, OK. He convinced the contractor that adding an additional shovel would double the daily output and finish the contract ahead of time.  And Haskell just happened to know of a Lorain shovel available and ready to work.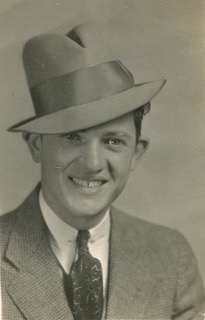 Next Haskell rented a dump truck to participate in hauling the gravel to the job. Then he decided if he had a motor grader, he could help spread the gravel.  1948 was the beginning of the new Haskell Lemon Construction Co.   It wasn't long before he began to sub-contract gravel contracts from other Contractors on farm-to-market county roads.  To get new work, Haskell would travel to Oklahoma City once a month to the state highway lettings to see who was the successful bidder on the work bid that month, and be first in line to try to subcontract any small portion.  He hired more independent dump trucks and bought a motor grader., and quickly got a reputation as being a good subcontractor to deal with.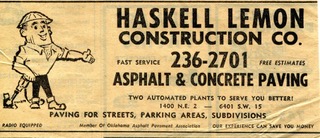 In 1950 he qualified Haskell Lemon Construction Co. to bid work in its own name as a "Prime Contractor".  The first state contract awarded to HLCC was for $7000 to put gravel on a road near Asher, Ok.  He wanted to buy a second motor grader, but  Irene objected.  "I want to live in a bigger town and own a house!" she declared.  He told her,  "Let me buy the motor grader and it will buy you the house."  On the 4th of July, 1950, Haskell and Irene, along with children Lynette, Jeanie, and Larry moved from Tishomingo, Okla.  to Oklahoma City and bought a home at 49th and N. May Ave, in the brand-new Mayfair addition.  N.W. 50th street was the last paved street in OKC, and it was one lane, with a wheat field on to the north.  Grand Boulevard was dirt.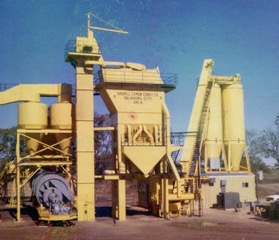 The decade of the '50's was good to Haskell.  He worked hard to build his company, and Irene kept the company books, ran the office, and raised the kids.  In 1952 the Turner Turnpike was built, and it sucked up most of the contractors to build it.  This allowed Haskell to be successful bidder on a 10 mile project on highway 92, from Tuttle to Amber.  Everything went right on this job and it was completed ahead of schedule and under budget. For the first time Haskell Lemon Construction Co. had some working capital and was a solid contractor.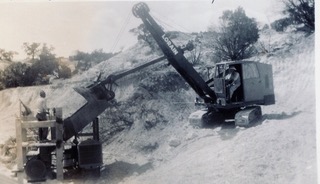 In 1955 HLCC was the successful bidder on his first Hot Mix Asphalt job.  It was a 5 mile section of Highway 81 coming north out of Duncan, towards Marlow.  He mortgaged Irene's new house, and bought his first Asphalt Plant, an H & B plant,   When this new plant was really humming,  it would produce 100 tons per hour.  As he now had large monthly payments to the bank, his motto was "Stay alive in '55,  Produce Hot Mix in '56".    The Duncan job was completed, and then in 1957 he moved his asphalt plant to Afton, Okla. to build 10 miles of the new Will Rogers Turnpike.   The company was now established, and ready to grow.
In the 1960s with the addition of son Larry and son-in-law Pete Wert, the company expanded and prospered and "paved the way" for its 3rd generation led by Ken Wert, Bob and Jay Lemon and now its 4th generation led by Jack Lemon.
HLCC stands as an example of the American Dream
proving the Road to Success IS the Road!
Contact Us Today for Your Free Estimate